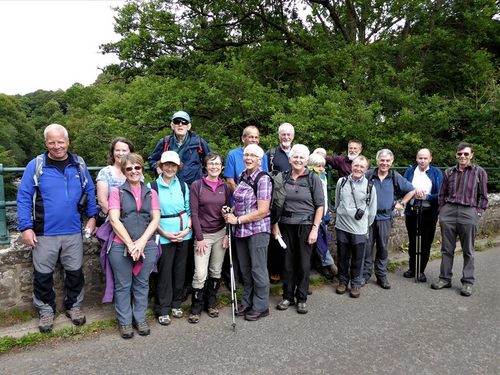 Blairgowrie & District Hillwalking Club - Club Rules
(As amended 31st March 2023)
All members must obey the club rules.
All meets and club nights shall be advertised approximately 10 days before the event in the local press.

In the interests of safety all members and visitors while on club walks must record intended walk with the meet secretary.

Visitors and new members will be restricted to the 'B' or lesser grade walk on their first outing unless vouched for and accompanied by an existing member.

All members and visitors must be properly clad for hillwalking. The club's officers have the authority to inspect members' or visitors' clothing and equipment and to refuse them permission to attend the walk if considered to be inadequately equipped.

Winter conditions:

On the bus journey to each venue the officers will circulate a summary of the weather and walking conditions provided by MWIS (Mountain Weather Information Service) or similar authoritative source. Members should consider this prior to determining which route they will be taking.
Each walking group shall comprise of not less than 3 members, appropriately equipped, with those ascending the mountainside carrying ice axes and preferably crampons.
Those members and visitors not appropriately equipped for ascending the mountainside are required to confine themselves to low level walks.
Winter conditions are defined as where snow and/or ice are likely to be encountered on the proposed walk.

All members and visitors must be checked on and off from any walk that they are on.
The cut off point for booking a place on a scheduled walk will be 10.00pm on the Wednesday prior to the walk. Any member or guest booking prior to this will be guaranteed a place, regardless of the means of transport. A booking received by the Meet Secretary after this point may be accepted but only if there is a pre-existing place available on the chosen transport, or if the person is willing to use their own car (where the walk would allow).
Regardless of the means of transport to a meet, walkers will pay GBP12 per trip. This may be in the normal way as the cost of a coach seat OR for car transport provided by a fellow member. The car driver will not be subject to this charge and will retain an amount equivalent to his/her fuel costs from the monies he/she collects from the passengers. The balance will be passed on to the treasurer and deposited in the transport account.
Any future change to the cost of a coach seat will equally apply to a car place.

So that committee members can work out the cheapest form of transport, members and visitors going on any walk must give their names to the Meet Secretary by the Weds before the date arranged for the walk. Transport can then be arranged by car or the best size of bus/coach ordered.

Junior members and junior guests will travel for half fare on the bus/coach. Third and subsequent junior members in a family travel free. Members and visitors in full-time education, or registered unemployed, shall also be eligible for pay half fare.

Coach Fares:

Coach fares are to be paid at time of booking and are non-refundable
Preferred method of payment of coach fares is by bank transfer.

Any member or visitor failing to attend a meet after booking, or cancelling their attendance after the Weds deadline for names, shall be asked to pay half the fare.

Emergency equipment may be allocated to members to spread the load.

Names and deposits for any weekend meet must be in the committee's hands six weeks before the actual event.

No dogs shall be allowed on any club walk.

The club shall not be held responsible for any accident, mishap or loss of equipment suffered by any member or visitor on a meet or in transit to or from a meet.

In the event of unacceptable behaviour on the part of any member, he or she would be asked to leave.

If fewer than 16 names are recorded with Meet Secretary by 10pm on the Wednesday evening proceeding a club walk the coach maybe cancelled at the discretion of the Meet Secretary.