2018 Spring Weekend Knoydart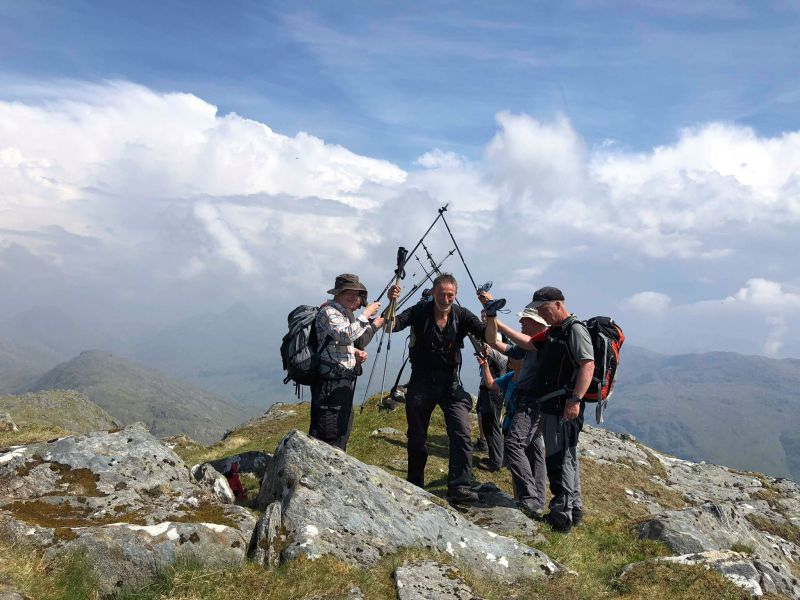 As part of the celebrations of Blairgowrie and District Hill walking club's 40th anniversary, a party of 25 members held an extended weekend meet visiting the remote Knoydart area.
Walkers were based in Inverie reached by ferry from Mallaig which gave the walkers a feeling of being on an island. They had excellent weather over the four days – almost too hot for walking and rather a lot of midges. Staying at Knoydart Lodge was excellent and we were warmly welcomed by members of the Knoydart Foundation. Over the course of four days, walkers completed many varied and interesting walks with some focusing on Munros (mountains over 3,000 feet) and others tackling Corbetts (mountains over 2,500 ft
One member climbed three Munros (Ladhar Bheinn, Meall Bhuide and Luinne Bheinn) and enjoyed high level ridge walks whilst others reached the distant heights of the Corbetts Beinn na Caillich, Sgurr Coire Choinnichean and Beinn Bhuidhe. Indeed there was a champagne celebration on the summit of Beinn Bhuidhe as past president, Norman Smith, completed climbing all the Corbetts – there are 222. Many of these hills are in remote locations so this was a great achievement – well done Norman –the first club member to climb all Munros and Corbetts as a club member
Of course there is more to see in Knoydart and members also enjoyed long and varied walks into the heartland and around the coast checking out historical sites and community projects before sampling home cooking in various cafes. There were many displays of colourful wild flowers and plenty opportunities to spot birds at the coast with a golden eagle flying over just as walkers prepared to get on the return ferry.