Mount Keen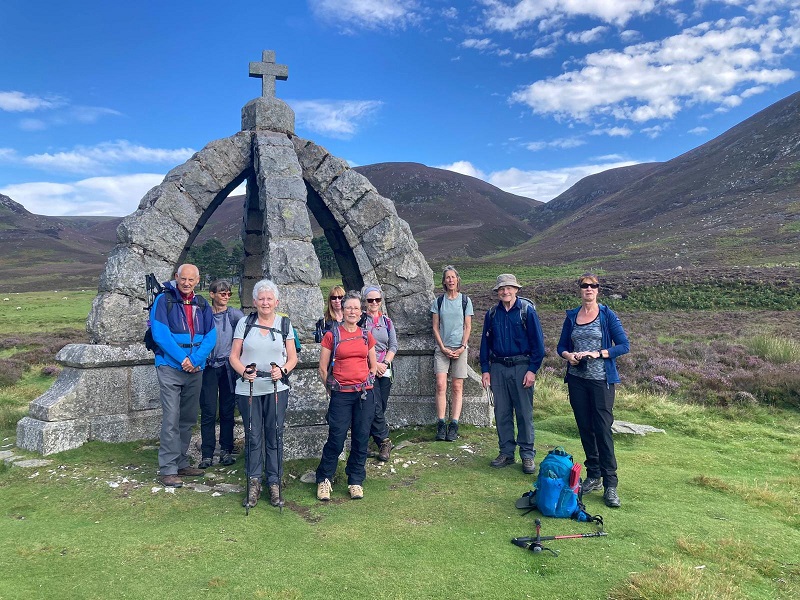 On a sunny August day, 18 members and three guests of Blairgowrie and District Hillwalking Club enjoyed walks to and around Mt Keen, near Edzell, the most easterly Munro at the head of Glen Mark. Mt Keen is a solitary Munro with stunning panoramic views of the Mounth, Glen Tanar, Deeside, and Strathmore.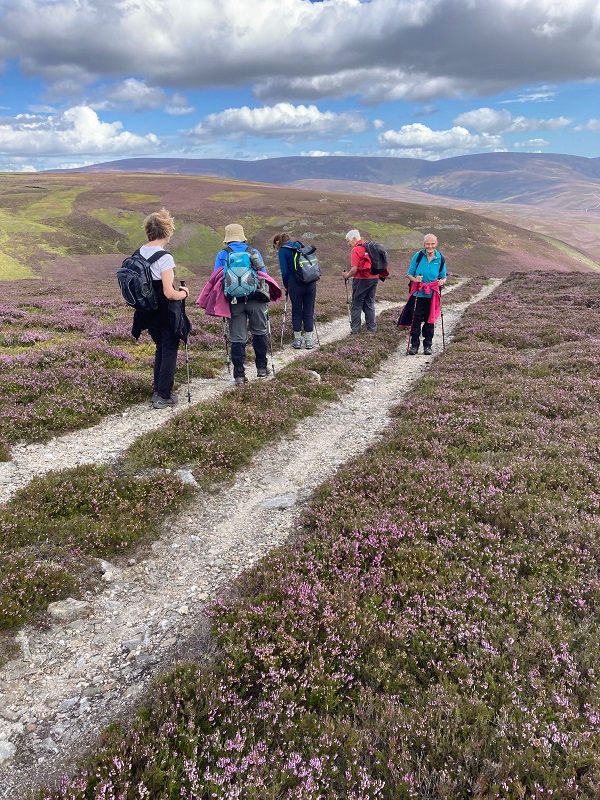 After travelling up Glen Esk, three parties started from Invermark with the A and B groups heading up Glen Mark to Mt Keen. The C group opted for a route on moor tracks and paths from Auchronie to Badalair, then a loose, stony track by the Water of Tarff to Milton. Some of this group extended their walk by another climb up to Hill of Rowan to explore the Maul Cairn for the Dalhousie family. They spied an adder and many interesting fungi.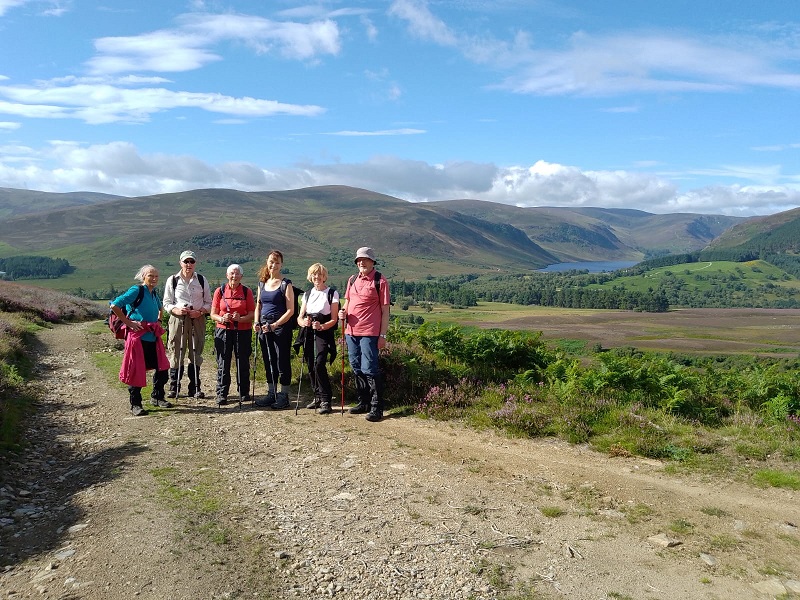 Four members set off on the A walk taking a "cross-country" route to Mount Keen from the south end of Glen Mark over Round Hill and Braid Cairn before ascending Mount Keen from the east. Much of the walk was on recently bull-dozed track, reflecting the land use in this part of the eastern Cairngorms, and apart from a distant sighting of some red deer, and a slow worm, they saw very little wildlife.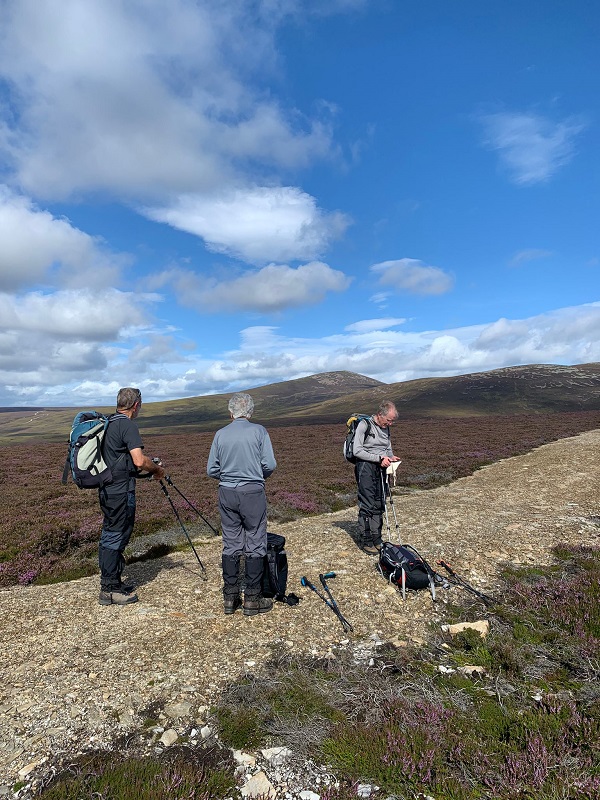 After starting in Glen Mark, the larger B group paused at the Queen's Well, a monument which commemorates Queen Victoria. Thereafter, they followed the Ladder Burn and climbed steadily to emerge on high moorland with a final push to the summit dome of Mt Keen. With a cooling breeze and a sharp shower on the summit they did not linger and just as they started their descent, they met the A team ploughing through some deep heather on their cross-country route from Braid Cairn.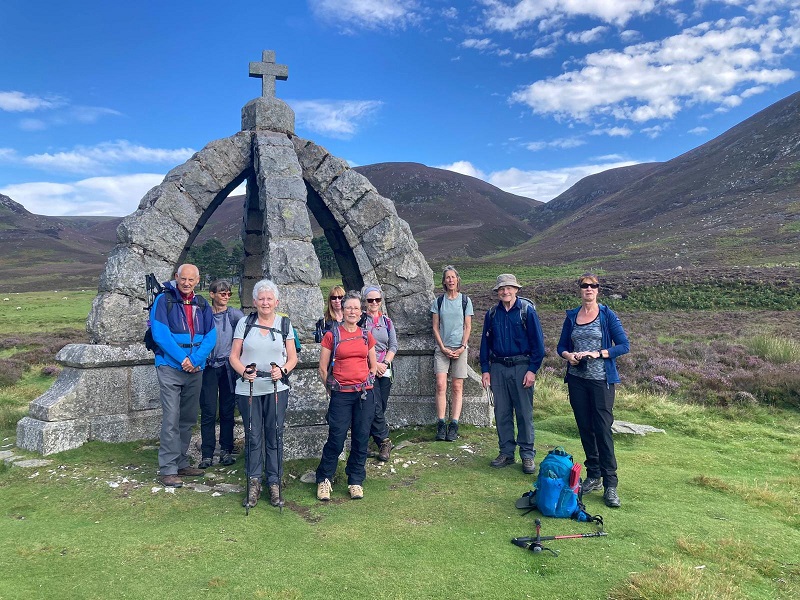 Mt Keen is clearly popular with many hillwalking groups and families with well-behaved dogs all enjoying a grand day out. Ling, bell heather and cross leaved heath in full flower, gave the hills a lovely purple bloom. The walkers reported only a few moorland birds, occasional red grouse croaking and a solitary stone chat near the car park.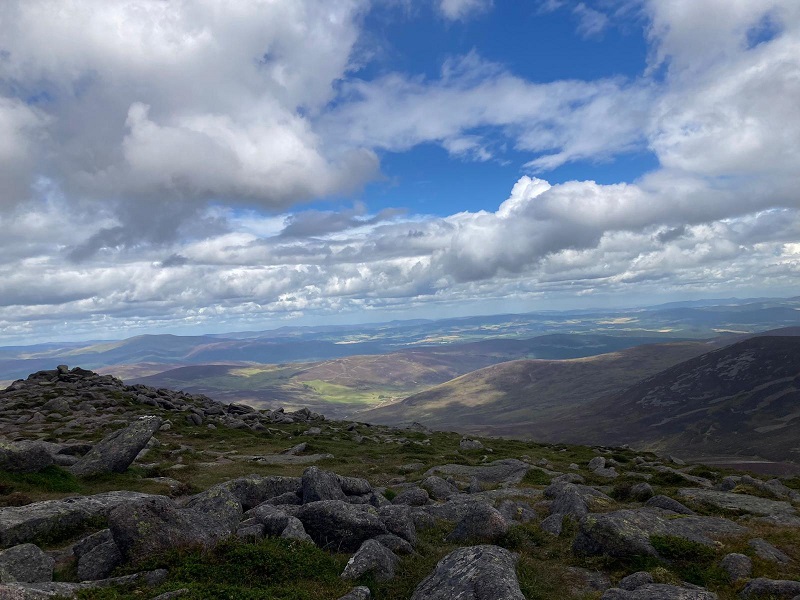 The earlier than expected return of the A and B parties meant we had time for a much-appreciated stop at The Retreat in Glen Esk where the C party were waiting, to enjoy a coffee and cake.
The day was tinged with a bit of regret as our regular driver, Dave Robertson, originally from Blairgowrie, retires soon after over forty years driving.